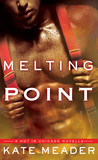 Melting Point by Kate Meader
My rating: 2 of 5 stars
It pained me to say, this book didn't work for me. It's not that I begrudged Gage's happiness with Brady. I had no complain for some man on man actions, either. Although whoaaa, there were so many here. Smexy-overload.
Having read a couple books of Kate Meader's and liking Brady and Gage characters when they appeared there, I was surprised that I had to struggle with this one. The sequences felt choppy and something's off.
Gage's failed first courting and Brady's sudden change of heart – from hands off to grab me, feel me – seemed rather wonky to me. Maybe the head injury and pain meds did caused the switch, huh…
By far I think this was the most detached book from the "Hot in Chicago" series (I have read only #0.5 Rekindle the Flame and #2 Playing with Fire). Yes, some of the recurring characters appeared here and there, but overall it still felt disconnected to me.
What I applauded was that the author didn't try to solve all trouble in one go. Life didn't run that way. So there was still personal issue Gage had to wade through, but – of course, happily – with Brady by his side.